BREXIT: Britain and the EU – 'To be or not to be?'
Thursday, April 7th, 2016. 17:30

-

19:00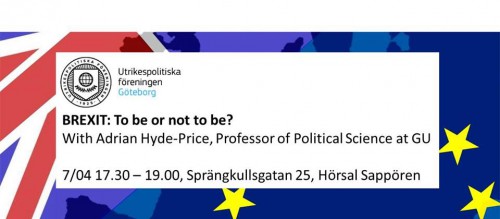 UF Gothenburg welcomes you to the lecture by Adrian Hyde-Price, Professor of Political Science at the University of Gothenburg, on the UK referendum regarding its membership in the EU.
Referendum on British membership of the EU is the most important political decision the British electorate has faced in this generation. The outcome of the referendum on June 23 will have implications for the British economy, the unity of the United Kingdom and the future of the European integration process. This lecture will examine the reasons for the referendum, the issues at stake and the main arguments put forward by the two sides.
Adrian Hyde-Price is Professor of Political Science at the University of Gothenburg, Sweden. He is a British citizen who has previously held academic appointments at the universities of Bath, Leicester, Birmingham, Southampton and Manchester, and has been a Research Fellow at the Royal Institute of International Affairs (Chatham House) in London. His research focuses on European security, and he specializes on the EU and NATO; German foreign and security policy; and security in the Baltic Sea region. His main publications include The Challenge of Multipolarity: European Security in the Twenty-First Century (2007); Germany and European Order (2000); The International Politics of East Central Europe (1996); European Security Beyond the Cold War: Four Scenarios for the Year 2010 (1991); and British Foreign Policy and the Anglican Church: Christian Engagement with the Contemporary World (co-edited 2008).
Free for members. 20kr for non-members.
You will be able to register for a one year membership (50kr) before the lecture.
Welcome!