Playa Coloniale
Wednesday, May 11th, 2016. 17:30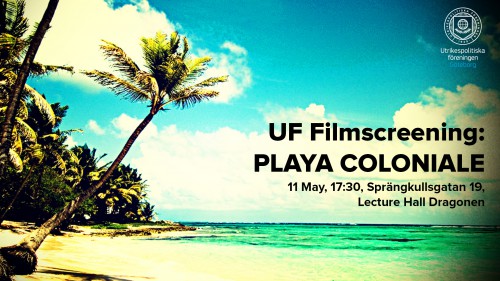 Welcome to another free film screening with the Society of International
Affairs in Gothenburg and Cinema Politica! On Wednesday the 11th of May
at 17.30 we will screen the award-winning documentary PLAYA COLONIALE.

By putting to the test the tenacious paradigm of salutary tourism, Playa Coloniale is a grinding look at an industry that, along with its users, doesn't question itself. Without a doubt, the right to go on vacation after working hard is legitimate. However, what do we do about our hosts' right to go on vacation? Is the money we spend there really a source of progress or economic empowerment? Playa Coloniale gives a voice to the protagonists of this problematic: from the Quebec tourist to the Cuban street sweeper or the intellectual dissident who criticizes the system. Traveling and being a tourist has now become two ways to consider the geopolitical dynamics of our travels. For one's gains facing the others' jeopardy.

The screening is free and open to everyone. The runtime is 81 minutes.

If you are interested in engaging in the Event Committee of the Society of International Affairs in Gothenburg, feel free to join us at our pre-screening meeting at 16:30 (Sprängkullsgatan 25).