Meet the New Board, Part 9: Daphnée Roch, Head of the Event Committee
Say hello to Daphnée Roch, one of our two heads of the Event Committee!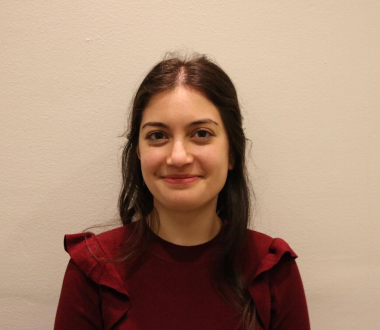 What is the best thing about being the head of the event committee?
Daphnée: I love being part of a student organization and the Event committee within UF is just perfect for me! I love organizing events, especially with a focus on international affairs. By being head of the committee, I am able to contribute with my different areas of interest when it comes to screenings for example. I can implement and modernize events as well, while being in a group of friends and even part of something bigger as UF Göteborg has sister-branches through the SAIA umbrella organization.
What in the UF are you looking forward to the most this spring?
This may feel like auto-advertising but honestly? The gala! I've been to several galas since high school and they are usually so much fun! You get good food and you get to meet new people. Of course, galas are about having fun and UF's Spring gala will be no different! I look forward to the professional DJ we're hiring, because dancefloors are always so much fun, even when you just watch other people dance. It brings a smile to my face at least. There will be different activities as well during the gala, with some collective singing maybe and for those worried about their singing abilities: do not worry, I have none and I am the one behind this! I'm also so excited about the venue because it is so nice! I have ordered white roses to represent peace (after all the theme is the Nobel Peace Prize 😉 ) and I think it will just look amazing.
Where does your interest in international affairs come from? Do you have a favorite topic?
I've always been international-oriented to be honest, there is not one specific thing or event that sparked my interest. I myself am international so if anything, it would stem from that. From there on, I have been interested in discovering cultures and acquiring knowledge beyond one state's borders. That, combined with my love for history and you end up going to political science to get the two (history and international relations) so as to focus on international matters. I don't think I have a favorite topic per say but I'm really interested in the field of peace and conflict and I hope to write my master's thesis on a subject related to this field. Or maybe international relations. I don't know yet, too many topics are interesting, this is such a struggle! Oh well, I still have a few months to decide, right?
Imagine your life in five years: Where in the world will you be and what will you be doing?
I don't even know where I'll be in a year so in five?! I've been torn between different countries and areas most of my life, and I have grown different allegiances to different places. In five years, I hope to be in Scandinavia and hopefully doing something productive and effective within the field of international relations (one way or another). My focus is more on embassies at the moment so maybe in an embassy? We'll see what life has in store for me!
If a movie was made about your life – what would the title and main plot be?
I barely remember what I ate for lunch yesterday so finding the main plot of my life for a movie, that's tough! The title could be 'The Lost Daydreamer', and from there, the main plot could be how about deep down, I'm more someone who likes to get lost in stories one way or another, but manages to be anchored in reality while needing to be extremely productive to feel good about myself. I think I can even extend on the question and tell you the soundtrack of such a movie: a mix of Florence + The Machine, Imagine Dragons, some early Maroon 5 and a bit of One Republic and Halsey.