European Security in the Shadow of War: "The Good, the Bad, and the Ugly"
Tuesday, November 8th, 2022. 17:00

-

18:00
UF Gothenburg is inviting you to a lecture about the changing security landscape in Europe following the Russian invasion of Ukraine, with Adrian Hyde-Price. Adrian Hyde-Price is a professor of International Politics at the department of Political Science at Gothenburg University. His research focuses on European international relations, with a particular focus on the nature of power and international order in Europe.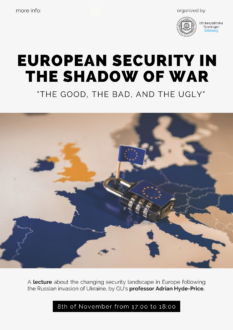 Where? Gothenburg University – lecture hall Sappören, Sprängkullsgatan 25 (building Sappören E).
When? Tuesday, November 8th from 17.15 – 18.15.
Pre-register for the lecture here: https://forms.gle/gEJKFQzKoqqyxkx97
Make sure to be on time as we will need to cross you off our list before entering the lecture hall. The event is free for UF members, you can become a member for free through the link https://goo.gl/forms/izA8HQGK31alrYgY2 or you can register upon arrival.
 Questions or concerns? Send us an email at lecture@ufgbg.com