Meet the New Board, Part 4: Matilda Ilander, Head of the Lecture Committee
Next up in our board series is Matilda Ilander, who is one of the two heads of the Lecture Committee.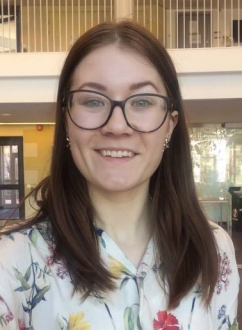 What made you want to be Head of Lecture?
Matilda: Quite simple – Because I love this kind of stuff. To organize things, to listen to all of these interesting people who hold lectures, to know what's going on and arranging it all. I may have a need for control.
Who is your dream booking to give a lecture at UF?
My dream booking was Hans Rosling. We talked about him just days before his passing. He had such a gift for teaching in an interesting and uplifting way. I'm not sure I have one at the moment, but it was amazing having the Minister for Foreign Affairs at UF a couple of weeks ago.
In your opinion, what is the most important political happening this year?
There is so much to choose from, it is quite many important elections and happenings all over the world during the year. But I would say that the British triggering of article 50, which could happen any day now, and the German federal election in September are the most interesting and important happenings, at least for Europe and the EU.
If you could have dinner with President Donald Trump, what would the two of you talk about?
I would probably like to talk to him about why he feels entitled to interfere in matters of people and their own bodies, not just in the USA but around the globe, or why it bothers him so much that he has a need to regulate women's bodies. But I guess he wouldn't be keen on saying something on the subject or discuss anything more with me. I probably wouldn't want to either though.
What is your secret guilty pleasure?
I don't see any pleasure as a guilty pleasure, you really shouldn't be ashamed of the things you like to do to relax. But I suppose that my love for the TLC show Say Yes to the Dress, Kalles Kaviar, and Alcazar isn't really cool.