Majed Abusalama: To be a Young Human Rights Activist in Gaza
Monday, April 14th, 2014. 12:00

-

13:00
Majed Abusalama is a palestinian refugee, journalist and human rights-activist from Gaza. He is also spokesman for Intifada Youth Coalition which works for a broad resistance against the Israeli occupation.  For his peaceful activism Majed has been both shot by Israeli soldiers and harassed by Hamas police, death threats have been directed against him and he has been denied to travel and has been arrested by Palestinian Hamas police on multiple occasions.  Majed has as well been celebrated for his articles about freedom of speech and human rights in Gaza. In 2011 he received UNESCO's Freedom of Expression Award.
Now Majed is on his way to Sweden for a tour together with the organization Ship to Gaza where he is going to talk about the situation to be young and student in a Gaza under siege. He will by that visit us, the Society of International Affairs to talk about his personal experiences as a young peaceful human rights activist.
Please note that the time for the lecture is 12.00, no academic quarter. The lecture is free for everyone. Welcome!
P.S. Everyone in attendance at the lecture will also receive a free copy of Omvärlden magazine!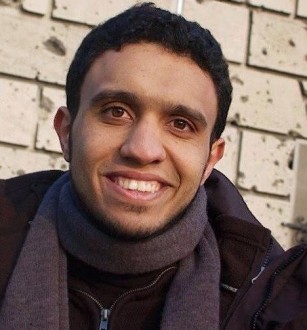 Majed Abusalama.