Feminist Foreign Policy in Practice: UN Women in Ukraine
Tuesday, November 29th, 2022. 17:15

-

18:15
Sweden was the first country in the world to adopt a Feminist Foreign Policy back in 2014. As of October 2022, the new Swedish government has decided to abandon this label. But what does feminist foreign policy mean, how does it relate to the Sustainable Development Goals (SDGs), and how has it impacted Sweden's development cooperation and aid politics?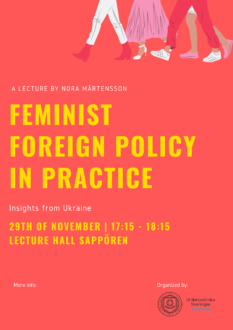 We welcome Nora Mårtensson, who will share her experiences from her internship at UN Women. The lecture will cover the importance of integrating gender equality perspectives in peace-building and peace-keeping processes, drawing upon concrete examples from UN Women's work in Ukraine.
Pre-register for the lecture here: https://forms.gle/aHAWXGVnmAgvDMRaA 
Make sure to be on time as we will need to cross you off our list before entering the lecture hall. The event is free and organized by the Society of International Affairs in Gothenburg. Support us by becoming a member — it's free! You can become a member through the link https://goo.gl/forms/izA8HQGK31alrYgY2 or you can register upon arrival. 
📩 Questions or concerns? Send us an email at lecture@ufgbg.com