Let the EU Election Week Begin – Welcome!
Welcome to the EU Election Week!
The cooperation group Poliforum gives you a week full of interesting pre-election events.
Tuesday May 20
Cecilia Malmström (EU Commissioner for Home Affairs)
Wednesday May 21
Speedlectures at Humanisten and Dep. of Political Science about the EU and relevant topics for the EP election. Free fika!
Thursday May 22
Debate between candidates to the EP. Free fika!
Friday May 23
Q&A with Minister for Foreign Affairs Carl Bildt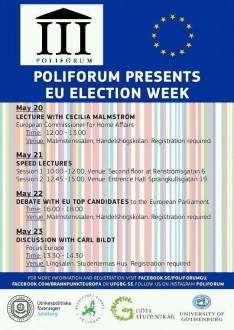 For more information and links to register to the Malmström lecture, the debate, and the Q&A with Bildt, please visit: https://www.facebook.com/PoliForumGU  or visit the Event Schedule of UF, here!