Is the U.S Posture to the Middle East Wrong?
Wednesday, April 3rd, 2019. 17:00

-

18:30

Free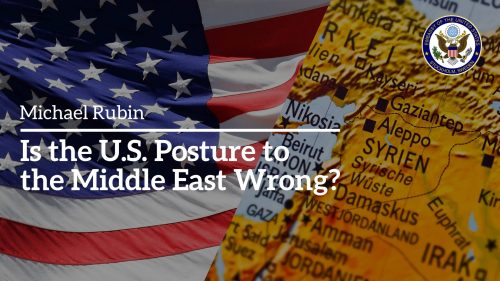 Michael Rubin is a resident scholar at the American Enterprise Institute and concurrently teaches classes for the FBI as well as US and NATO military units. He is a previous Pentagon official who has previously lived in Iran, Yemen and Iraq. He has authored and contributed to several books exploring Iranian history and American diplomacy. In addition to this, Dr. Rubin has a Ph.D and an M.A. in history from Yale University.
The U.S. maintains strong alliances with Israel, Saudi Arabia, Jordan, Morocco, and Egypt, and remains hostile to Iran, Syria, and Algeria. Has Washington gotten it wrong? This lecture will center on why Dr. Rubin, despite European criticisms of U.S. policy toward Israel and Saudi Arabia, believes the U.S. posture is correct and the alternatives would be worse.
Expand your knowledge and challenge Dr. Rubin's view by asking questions during the Q&A.
Date and time: Wednesday, April 3rd, 17:00-18:20
Location: Sappören, Campus Haga, Sprängkullsgatan 25
Registration: https://goo.gl/forms/7hzUEYdkoQb69TqE2
Membership (free): https://goo.gl/forms/izA8HQGK31alrYgY2
For your information, Dr. Rubin's visit to Gothenburg is sponsored by the U.S. Embassy in Sweden.